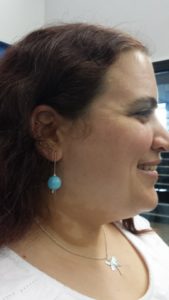 A big congratulations to Lithy, the winner of The Silver Forge Selfie Competition for 2015! Lithy has been having a bit of a shop-up with her voucher, and I hope she's been enjoying it heaps. Some more of my beautiful entrants below:
You can check out all the wonderful entries on The Silver Forge FaceBook page or on Instagram  – just search for #silverforgeselfie.
Keep an eye out for some more of these lovely pictures in the customer testimonial section or as part of my product listings on my website!
A very big thank you to everyone who entered – it was really gratifying to see so many of you lovely people wearing your Silver Forge pieces – it made my heart glad, and I think I'll do it all again next year!