Lapis Lazuli has been mined in Afghanistan for over 6,000 years.
Lapis is the Latin word for 'stone', and lazuli comes from the Latin 'lazulum' which was derived the name of the stone in Persian. The name of the stone came to be associated with its color – the word azure comes from lapis lazuli.
Lapis was long ground up to make the pigment ultramarine, which was widely used during the Renaissance in frescoes and oil painting (this method was replaced in the 19th century with a synthetic compound.)
Because of its amazing blue colouring, Lapis has been prized; carved and worn throughout antiquity, in pieces like this Roman Imperial Eagle. I saw quite a lot of it in precious pieces in museums while travelling in Egypt.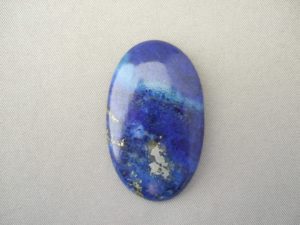 Lapis is believed to be good for communications and good judgement, for enhancing memory, and to attract success.
Lapis is gorgeous – and I have these pieces in my gemstone collection just waiting to be made into something fabulous!