Serpentine is the name given to various minerals found in serpentinite rocks. These are used as a source of magnesium and also in industry, and as a decorative stone. The Irish Connemara marble is a form of serpentine.
The name is thought to come from the Latin serpentinus, meaning 'serpent rock' – based on the mineral's greenish color and smooth or scaly appearance.
Serpentine has been used since ancient times to guard against disease and sorcery. It is believed to provide protection against venomous creatures such as snakes and insects. It is thought to balance mood swings, and to promote the ability to solve conflicts peacefully.
Serpentine is beautifully offset by silver I think – it's my current favourite stone!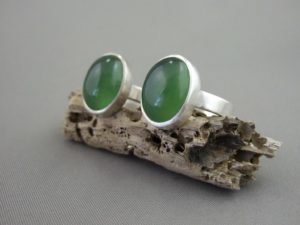 I have some serpentine in my gemstone collection. If you find a stone that appeals to you and you'd like to have it set in a ring or a pendant, get in touch – I'd love to create something beautiful for you.