Here are some answers to some of your frequently asked questions. If there is anything else you'd like to know, please feel free to contact me.
Q: Is the metal you use real silver?
A: Yes, all my work is done in 925 sterling silver, which I source from an eco-friendly company. No nickel or silver-plating here!
Q: Where can I see your work?
A: You can view my pieces in Alderley, Brisbane by appointment – please contact me for a suitable time.
At present, some of my work is also available at:
KickArts, Centre of Contemporary Arts, 96 Abbott Street, Cairns, Queensland
Made In Design, 1B 64 Darley St, Mona Vale, Sydney, New South Wales
Ukiyo Store, 16 Churinga Waters Drive, Old Beach, Tasmania
Q: Do you make all your jewellery yourself?
A: I am an independent artisan and I personally handcraft all my pieces. The only components I don't make are cuff link backs and earring backs for post earrings; and the fine silver chain I occasionally use in necklaces and bracelets – I can handcraft chain and am happy to do that, however it is a very time consuming process and the cost is prohibitive. However, unlike a lot of 'handmade' jewellery I see out there, all my clasps, bezels and ear-wires (and of course all other silver parts) are entirely manufactured by me from sheets and rolls of silver. If I had the equipment, I would roll the sheets and wire myself too!
Q: Will you copy a piece of jewellery for me?
A: As I would not like anyone to make direct copies of my personal designs, I will not directly copy anyone else's specific design. I am happy to consider creating pieces with the feel or style you are after, so please feel free to contact me about that.
Q: Do you work in metals other than silver?
A: My preferred medium is sterling silver, and at present I am not working in other metals.
Q: Do you do repairs?
A: No, I am not a repair jeweller.
Q: Do you do engraving?
A: No, I do not do engraving. That is a specialist skillset best left to someone who practices it every day.
Q: What sort of stones can you set?
A: I set cabochon gemstones. Cabochons are stones that have a flat bottom or back, like these:
While I learned techniques for setting faceted stones with a pavilion (pointed bottom) in my studies, I don't practice that style of setting. A faceted stone looks something like this: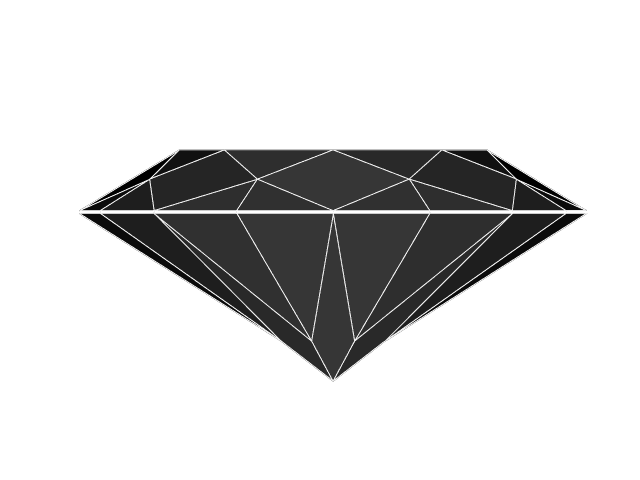 However, if you are after a faceted look, I do set rose cut and checkerboard cut cabochons, which are faceted on top and have a flat back – like these:
Q: Can you use a gemstone I have?
A: If your gemstone is suitable, I am happy to create a piece for you with it. If you can email me pictures of the stone, I can tell you if it is possible for me to set it for you. I haven't lost a stone yet, but you should be aware when setting gemstones there is always a risk that the stone may be damaged or fractured – so I take all care and no responsibility when using a gemstone supplied by you.
Q: Can I buy one of your gemstones?
A: All the gemstones in my collection are for use in bespoke Silver Forge pieces only – I don't sell my cabochons on their own.
Q: Can you melt down some old jewellery I have and use that?
A: I don't have the specialist equipment required to assay and refine metal.
Q: How much is postage?
A: When you purchase from The Silver Forge Website Shop, postage is free on all smaller items. Any postage charges for larger items will show in your shopping cart before purchase.
Q: Where did you get your tools?
A: A lot of my tools, including my doming block, were purchased through the school I attended. Australian Jewellers Supplies carry a vast range of smithing equipment and are very helpful.
If you have any further questions, or need any clarification, I am always happy to help! Please feel free to contact me.